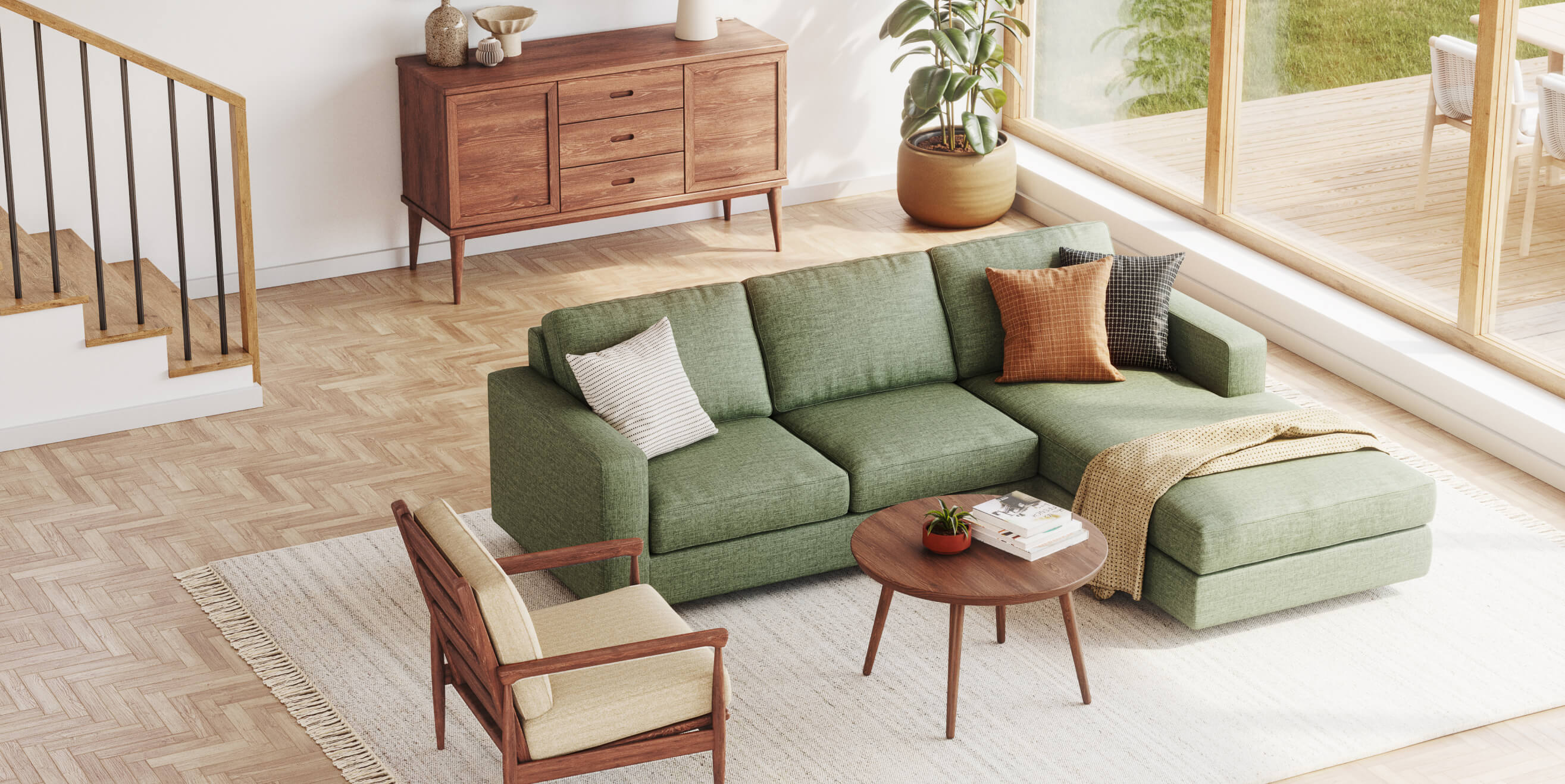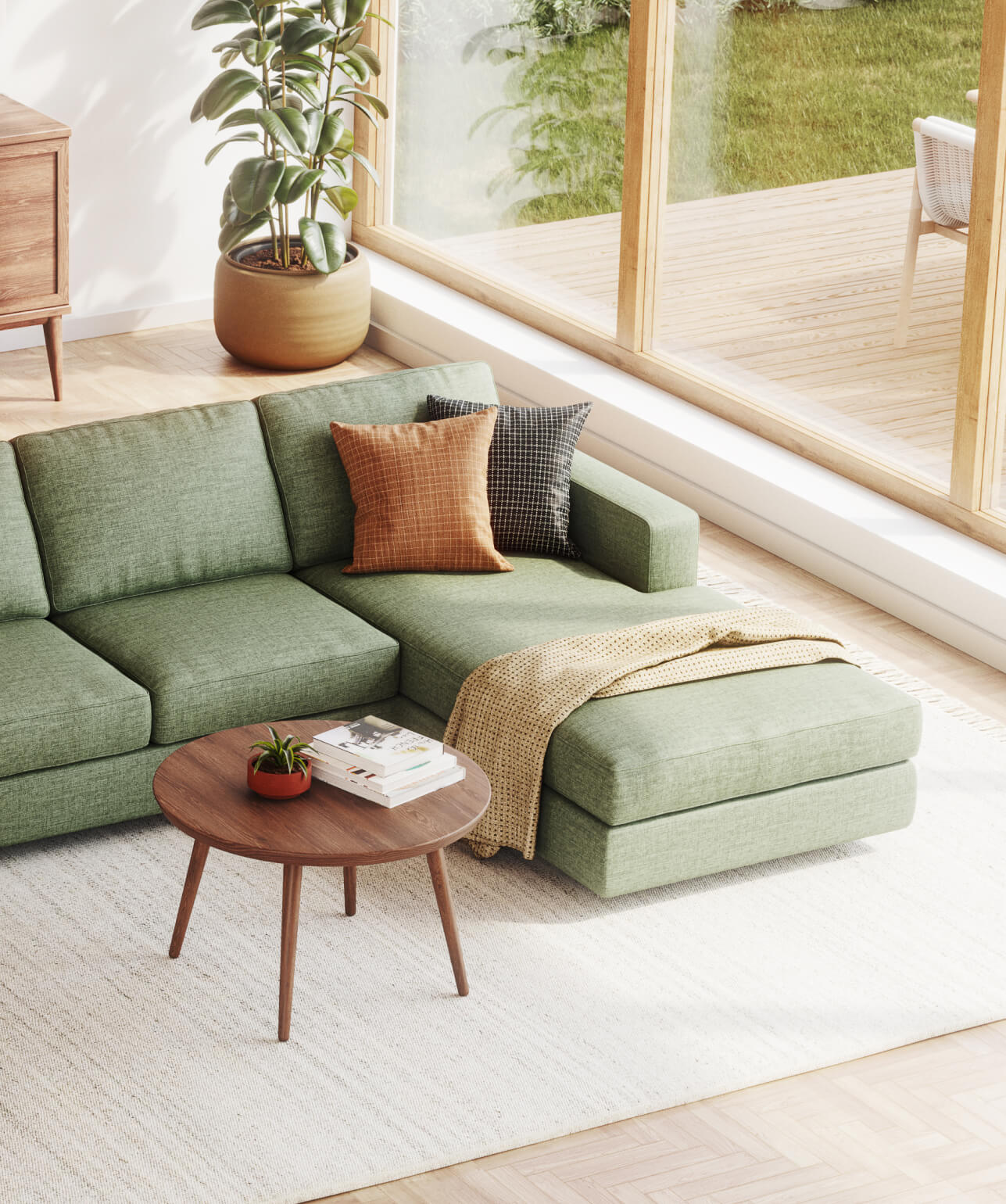 Medley's Eco-Friendly Sofas are your Winning Solution: 5 Reasons Why
Bring the best of the outside in.
Tired of furniture that doesn't last? Seeking a more sustainable solution that feels as good as it looks? We've got your back. Here's why furniture made from our comfy and durable materials could be your best fit.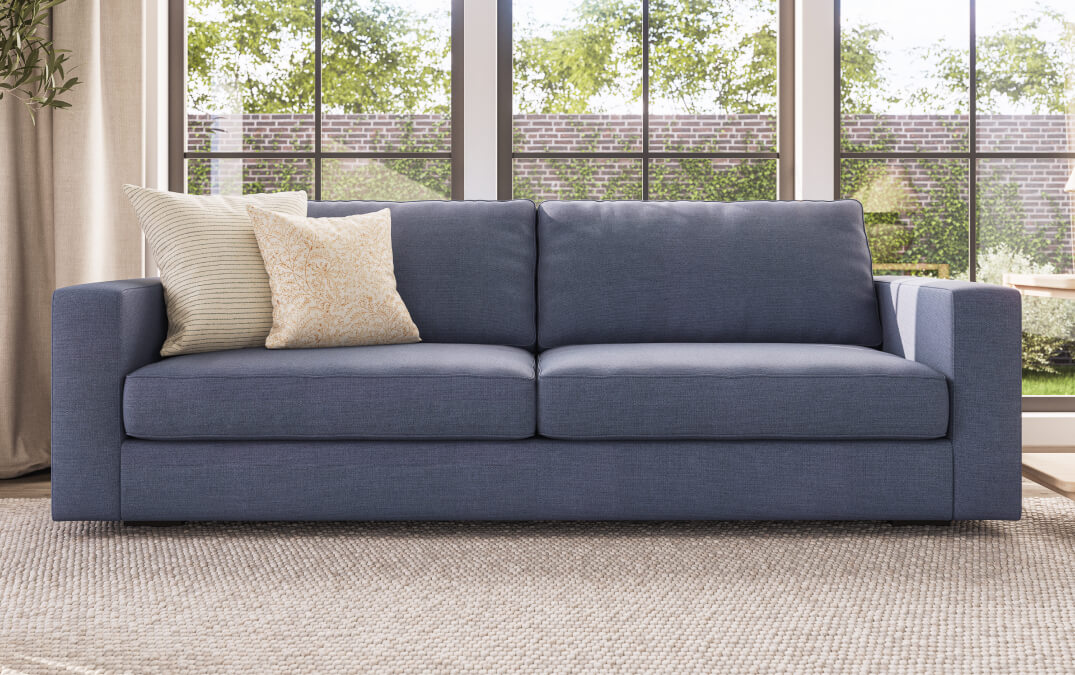 1. All the comfort and durability you demand—without the chemical smells
Here's what you don't want to find in your furniture: fire retardants, formaldehyde, and harsh adhesives, among other bad actors.
That's why we use cleaner materials to build our furniture, including certified organic plant-based latex foam, wool, FSC-Certified hardwoods, jute, and cotton.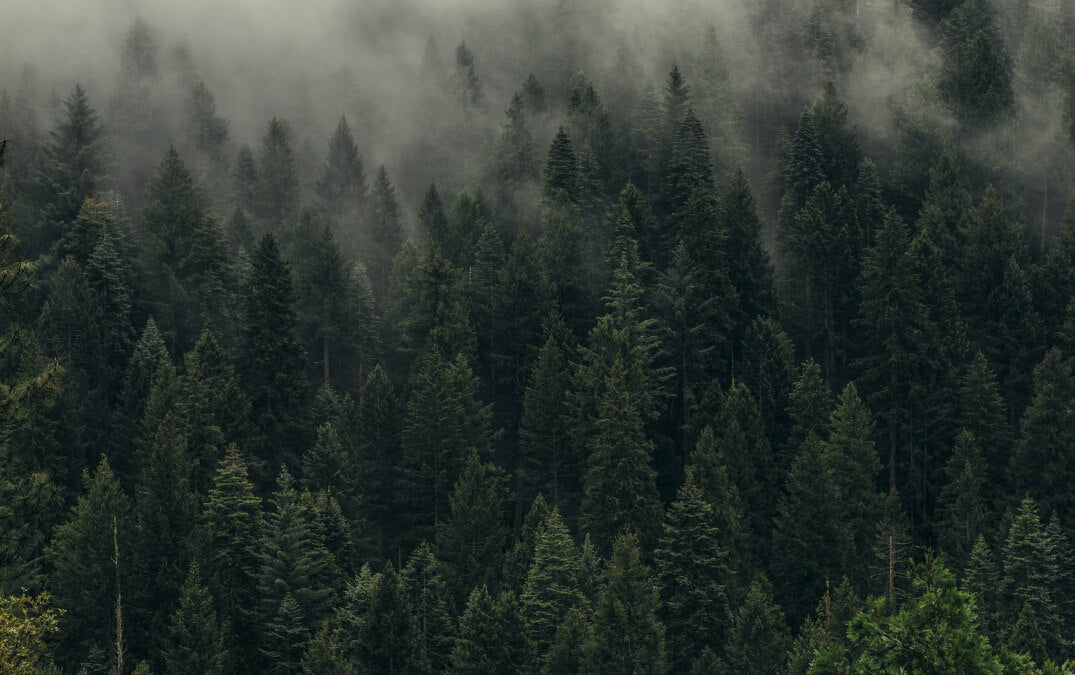 2. Better for you, better for the planet
According to the EPA, it's estimated that over 9 million tons of furniture end up in landfills each year. That makes up about 5% of this country's waste. We've been in the game long enough to know that there's a better way.
Our priority is to make sustainable, high-quality furniture that's built to last, not end up in a landfill—while minimizing and offsetting our impact on the environment along the way. That's why we prioritize more biodegradable, green-certified materials: if your furniture does end up in a landfill, it will break down without the same level of harm that furniture constructed with a greater synthetic composition might.
Tree for every purchase: For every tree used to bring our pieces to life, we plant 3x the amount of trees in partnership with the National Forest Foundation. That means for each piece of furniture made, we not only offset the environmental impact, but are able to actively contribute to a more thriving wilderness—all because of you.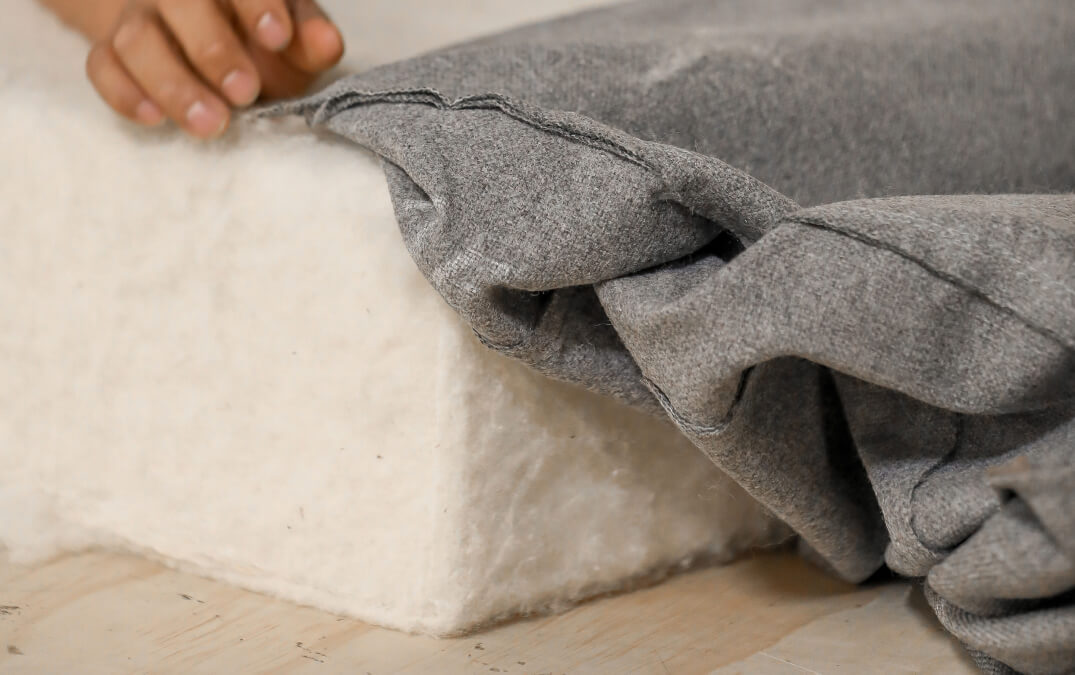 Pictured: our cushions blend resilient plant-based latex foam with breathable, cruelty-free wool.
3. From field and forest to ultra cozy
We can say with confidence that our plant-based latex + wool cushioning is among the most comfy options out there (after many hours of testing, our butts don't lie!). What makes up this magical cushion? Layers of soft, breathable wool wrapped around certified organic latex foam. Made from the sap of rubber trees (Hevea Brasiliensis), latex delivers ultra-responsive, springy support for pressure-free, luxurious comfort.
No other materials come close to their overall durability, comfort, breathability, resiliency, support, motion isolation, antimicrobial properties, and better biodegradability (can you tell why we love them?). P.S: if you want to know more (like, way more) about our plant-based latex foam, we nerded out about it here.
Whether through a slight pitch in the seat back or an extra layer of wool around your sofa cushions, we make every design choice to create a comfier sit, too. Our designers put in extra thought behind how each item will be used for years to come, focusing on the item getting better with time…like wearing in your favorite pair of leather boots.
Fabrics for real life
We source lasting, cleanable, and eco-friendly fabrics for every lifestyle, from "oops"-proof to ooh, that's nice.
Ultra tough frames
Our domestically sourced, FSC-certified Alder hardwood frames are kiln-dried, secured with dowels, and corner blocked for strength.
Comfort, elevated
Thoughtful construction meets premium, cozy cushioning to provide exceptional comfort and support: less oof, more ahhh. Feel it out with our easy-breezy in-home trial.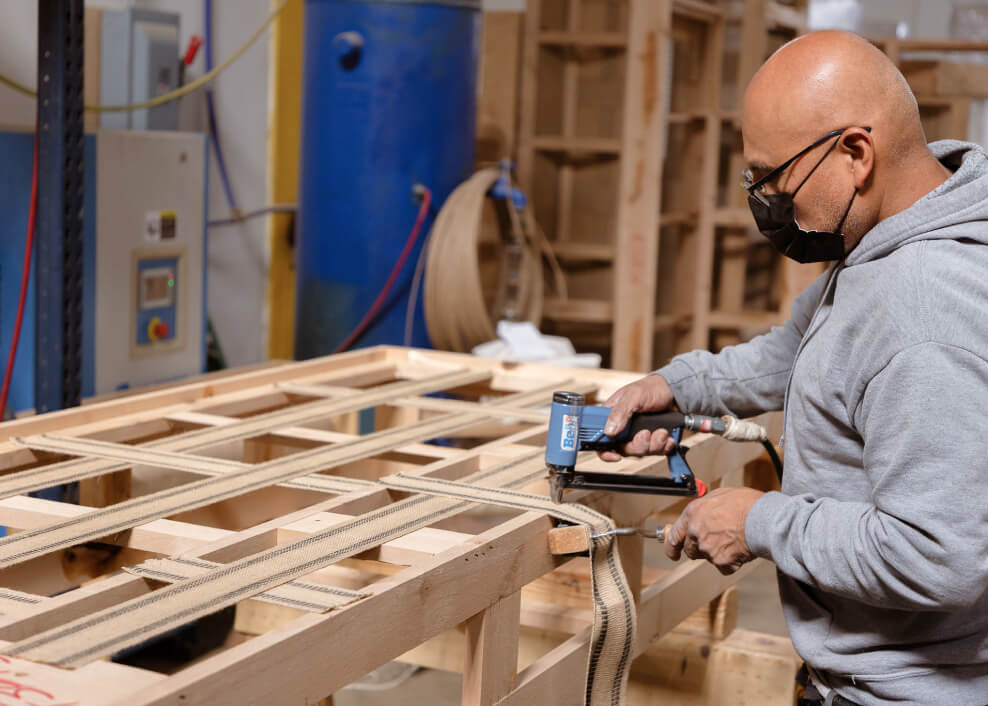 4. Built for life
We do everything possible to make sure your furniture will last. This starts with our team of skilled builders who use time-honored techniques and methods to make our pieces extra durable. 
Frames and spring systems: made from solid, FSC-Certified, kiln-dried Alder hardwood, our frames are built to withstand it all. Classic joint construction contributes to long-term durability, while corner blocking (pieces of wood placed at an angle and screwed into place on the sofa frame's corners) provides extra stability. Next up, our unique hand-tied spring systems prevent sagging and squeaking, absorb shock, and provide a comfortable, firm foundation.
Cushions: We've already sung the praises of our cushion made from wool and certified organic latex foam, (Dunlop is known for its particular density and high durability) which features durable spring-back to maintain its shape for 20+ years (!)
Fabrics: Nearly all of our fabrics test higher than commercial grade limits, meaning they can withstand being placed in the middle of a busy mall and still hold up.
5. Oops-proof
Raise your hand if your kid's favorite game=jumping up and down while you're sipping coffee on the sofa🤦! We take extra care to source high-quality fabrics that can live up to your everyday. All are cleanable (several are even machine-washable), and our toughest performance fabrics contain plant-based repellants for easy cleaning.
If you're seeking fabrics with a natural composition, our luxurious and practical linen and cotton collections are a treat to cozy up in: picture yourself with hot cocoa (or something stronger) on a nice, quiet evening all to yourself…ahhh, that's nice.
Start making your vision real: order free swatches here.